浙江,安徽,江苏,山东,河北,辽宁省
---
The provinces along the coastline of the Yellow Sea will suffer from tidal bore that will roar up into the bay until it drowns Beijing. Cities such as Shanghai will find the combined high tide and tidal bore more than they can stand. Even those clinging to boats will suffer in the swirling waters. Those above Beijing will find themselves hosting sputtering politicians, who will attempt to made demands and expecting subservience. Their climate will remain similar to today, however, so survivors will have less adaptation required.
这些在黄海沿岸的省份将会遭受潮汐的巨大泛滥-----潮汐会呼啸着进入海湾湖泊,最后会淹没beijing。上海之类的城市会发现高潮汐和海潮波加起来会比这座城市还高。甚至那些可以依靠的船只人也会被卷入漩涡中。上面提到的 beijing,将会发现大群的天丿朝政治家聚集了起来,气急败坏,试图提出诸多要求,并期盼着有人对其奉承屈膝。这些省份的气候会和现在相似,对生存者提出的适应(气候)的要求不多。
ZetaTalk May, 2010

齐塔人之声2010年5月
Guangzi, Guangdong, Fujian Provinces广西,广东,福建省
---
The provinces of Guangzi Province and Guangdong Province and Fujian Province in what is now southern China will have a climate equivalent to southern Canada today. But punishing tidal waves will assault Guangzi and Guangdong and Fujian provinces. These tides will be more than the 500-600 foot high tides, moving relentlessly inland and predicted worldwide. They will include equalizing the press of water coming from a compressing Pacific, which will scour the Philippines and Indonesia as it passes. Thus, draining of a high tide will occur more slowly, and more will drown.
现在位于中国南方的广东,广西和福建省将会拥有和今天加拿大南部相当的气候。但惩罚性的海潮波会袭击广西,广东和福建省。这些海潮会超过500到600英尺高(即205.4米),无休无止地冲进内陆地区,并且预测是全球性的。它们和太平洋收缩,遭受压力后涌起的海水力度相当,在其通过的时候会冲刷菲律宾和印尼。因此,高潮汐的衰落是缓慢的,许多人会被淹死。
ZetaTalk May, 2010

齐塔人之声2010年5月
Xinjiang and Qinghai and Sichuan Provinces新疆,青海,四川省
---
As with Kazakstan and Pakistan, Xinjiang Province, Qinghai Province, and Sichuan Province will be within the new polar circle around the new S Pole of India. Bone chilling cold will be a daily fare, with an extremely short growing season, if any, during the scant summer months. Those determined to live in their former homeland should prepare for this by stocking seeds that can grow in such an environment, equivalent to the Yukon in Canada or to Alaska. Sichuan Province is today considered to be the "rice bowl of China". Sichuan Province will find its former paddies devastated by the great earthquakes and a pounding deluge that will create landslides. This will be a devastation to Chinese survivors, to whom today rice is a staple. To the extent that rice paddies can be rebuilt in what is now the northern regions of these provinces, and to the extent that a variety of rice is available that can grow in a short growing season and suffers the cold well, rice growing might continue at the farthest reaches from the new S Pole over India.
与哈萨克斯坦和巴基斯坦一样,新疆,青海和四川省将会落在围绕着新南极印度的新南极圈里,彻骨的寒冷将是家常便饭,而耕种季节相当短;若有的话,也是在少得可怜的夏季月份里。那些决心住在以前家园的人们应当为此做好准备,要储存可在这种环境下(和加拿大的育空或者美国阿拉斯加的条件差不多)生长的作物种子。今天的四川省被看做"中国的稻米之乡",但会发现以前的稻田被巨大的地震和连续不断的,造成了山体滑坡的大洪水给毁坏了。这对幸存下来的,以水稻为主食的中国人来说是个致命打击。某种程度上说,可在现今这些省份的北部地区重建稻田;某个种类的水稻可在短短的耕种期生长,并且耐寒冷。离新南极印度最远端的地方或许可以继续栽种水稻。
ZetaTalk?
---
Sichuan Province is subject to frequent monstrous sinkholes lately. We mentioned in our recent description of the causes of sinkholes, there will be points of pressure as well as voids produced. Sinkholes form over the voids, but what of the points of pressure? If water is trapped between rock layers in those points of pressure, then of course it wants to seek release and will move in whatever direction allows the pressure to ease.
最近四川省经常出现巨大的天坑。我们在最近关于天坑形成的说明中提到岩石层受到不同方向的推挤,就会形成压力点和空洞。天坑在空洞上方形成,但压力点是什么呢?如果水被堵在了岩层里的这些压力点处,那么当然它会寻找能够释放自己的地方,并且会朝着可以让压力释放的任何方向运动。
ZetaTalk June, 2010
齐塔人之声2010年6月
Neimongol, Gansu, Ningzia, Shanxi, Shaanxi, Henan, Hubei, Chongqing, Quizhou, Hunan, Jiangxi Provinces
内蒙古,甘肃,宁夏,山西,陕西,河南,湖北,重庆,贵州,湖南,江西
---
The highlands of the many provinces that lie between Mongolia and the coast of southern China will have a climate equivalent to southern Canada today. This allows Canada to grow grain and house herds of cattle. The highlands in the provinces, inland from the coast of southern China, will escape the punishing tidal waves that will assault Guangzi and Guangdong and Fujian provinces. As all dams will break during the magnitude 9 earthquakes that will rack the Earth, the 3 gorges dam on the Yangtze River will likewise fail, with disastrous flooding for any downstream.
许多从蒙古到中国南部海岸之间的高地将会拥有和现在加拿大南部相当的气候。这使得加拿大能种植谷物和进行室内畜牧。这些省份的高地和中国南部沿海内地区域,将会逃脱袭击了广西和广东,以及福建省的海啸。届时所有的水坝会在震荡全球的九级地震中毁坏,长江上的三峡大坝同样会毁坏,随之灾难性的大洪水会顺流而下。
ZetaTalk May, 2010

齐塔人之声2010年5月
Tibet and Yunnan Provinces西藏和云南省
---
As with other countries closely surrounding the new S Pole of Earth, Tibet and Yunnan Province will be plunged into cold temperatures, and even those used to living with cold summers and bitterly cold winters today, due to the elevation of Tibet, will be unable to adjust. Life in perpetual ice and snow, with the inability to garden, will force those hardy enough to migrate to do so, and those unable to make the trip to simply freeze and starve to death.
和其它紧紧围绕着地球新南极的国家一样,西丿藏与云南省会陷入寒冷的气候,鉴于西丿藏的海拔,即使那些适应了凉爽夏天和极度寒冷冬天的人也根本无法适应。(他们)将会生活在永冻土上,冰雪覆盖,无法栽培耕种,这将迫使足够坚强的人们开始迁徙,而无法进行迁徙的人将会冻死或者饿死。
ZetaTalk
Taiwan台湾
---
Taiwan, though an island, has high land an will survive as land even after the poles have melted. The shortening Pacific will push some land masses upward, and Taiwan fares well in this regard. Proximity to violent volcanic eruptions in Japan and the Philippines, Taiwan's neighbors, will create gloom in this part of the world for some decades.
台湾,作为一个水平面较高的岛屿,甚至当极地融化后,也能够幸免于难。逐渐缩小的太平洋将会使一些岛屿浮出水面,台湾岛就是水平面将会上升的岛屿之一。台湾的周边地区,如日本和菲律宾,由于非常接近火山爆发地区,因此,在数十年后天空将会变得十分昏暗。
ZetaTalk



Beijing北京
---
The people of Beijing will be, in the main, taken by surprise by the shift. During the shift, those residents indoors in the city proper will be likely to be crushed by falling structures, with little hope of rescue afterwards. Where China experiences quakes, today, they are not of the magnitude that will occur during the shift, and thus structures outside of simple family homes will crumble, crushing those inside. Look to the devastation in India or Afghanistan or Turkey to see how easily such structures crumble. The stunned residents of Beijing will spend weeks simply sorting out the dead from the living and coming to grips with what has occurred. Of course, the powers in the seat of government will be ineffectual, and frankly will not be sought out by the populace nor conferred with. The military arm tends to disappear during such times, the arrogant generals looking behind them and finding their ranks decimated, the foot soldiers gone home, abandoning a structure that they sense will be ineffectual. Communications will be nonexistent, with the residents left to arrive at their own conclusions. Being in the highlands, those surviving the shift in Beijing will be able to migrate into the country side and ally with survivors there, who will be many.
大多数北京居民都会对极地转移十分震惊。在极地转移的过程中,北京市民很可能会被坠落的建筑物砸伤,极少幸免。现今,在极地漂移过程中,中国发生地震的地方会很多,建筑物连同建筑物里的东西都将被将被粉碎。看看印度、阿富汗或土耳其等国家所遭受的毁坏,我们可以看出极地转移将使建筑物非常容易损坏。受惊的北京居民将有数周时间都将在住所和已经来临的灾难中与死神搏斗。当然,政府的力量将无能为力,坦白的说,将不会从民众中挑选出来,也不会与民众协商。经历了这次大灾难之后,军队将会消失,自大的将军们回顾他们自己时将会发现底层的士兵们已经回家了,他们的军衔降低了,他们的官阶也将变得毫无意义了。通讯也不存在了,在高地,那些在极地漂移中幸存的北京人可以迁移到国家的边缘并与那里的幸存者结盟,这种情况会很多。
ZetaTalk
See also the ZetaTalkVideo on Biejing UFOs
Jilin Province吉林省
---
This provinces north of Korea will have the additional burden of dealing with drowning and migrating Koreans, who will find their peninsula washed over during the compression of the Pacific and the press of water coming directly from the Pacific during this compression. Already starving, this will burden any survivors in Jilin Province.
朝鲜北部的这一省份将会有着额外的负担,得应付被洪水淹没而迁徙的朝鲜人。朝鲜人发现在太平洋收缩的时候自己的朝鲜半岛被海水冲刷了,在此收缩期间,海水受到压力直接从太平洋冲了过来。原本已经遭受着饥饿的朝鲜人会成为吉林省幸存者的负担。
ZetaTalk
---
Jilin will be blessed with highlands and a warmer climate in the Aftertime, as well as proximity to the ocean in the Aftertime, which will provide a food source from fishing. Those in Jilin Province should prepare for this time by building boats, as Noah did, and learning what they can about ocean fishing techniques. Where Changchun City will be flooded in the Aftertime, it will take two full years for the waters to reach this height of 675 feet. In the mean time, residents can move to higher ground and even migrate toward Alaska and eastern Russia. Its greatest worry will be the large number of drowning and starving migrants from N Korea. Boats can also be used to assist the migration of these Koreans toward less populated areas closer to the new Equator.
吉林在未来将被赐予高地和温暖的气候,将来也会接近海洋,这样可以通过捕鱼提供食物资源。那些在吉林省的人们应该像诺亚一样造船来为这一刻做准备,并尽可能学习海洋捕捞技术。长春在未来将被淹没,水将花费两年时间达到675英尺的高度。同时,居民可以转移到更高的地方,甚至迁移到阿拉斯加和俄罗斯东部。最大的担忧是将有大量来自朝鲜的溺水和饥饿的移民。船也可以用来协助这些朝鲜人向靠近新的赤道人口较少的地方迁移。
ZetaTalk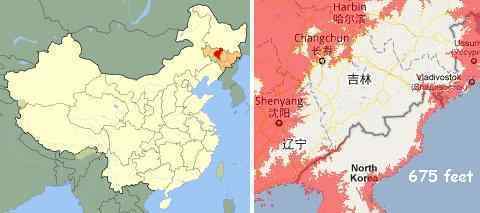 Chongqing重庆
---
Chongqing is upriver from the Three Gorges Dam on the Yangtze River, but this does not exempt it from flooding worries. Chongqing is built around the juncture of two rivers, and is thus vulnerable to flooding. It is also in the region being fractured as the tongue of the Eurasian Plate bends down, suffering from sinkholes and shifting land. Deluge has been striking in many parts of the world, and certainly China has not been exempt.
重庆位于长江三峡大坝的上游,但也没有免除洪水袭击的担忧。它建立在两条河流交汇处的周围,因而很容易被洪水淹没。它也位于破裂的地带,因为欧亚板块的舌头地带在弯折,重庆遭遇了天坑塌陷和陆地移动。洪水正在袭击世界上许多地方,当然中国也不能幸免。重庆的居民们被UFO警告了这些情况。
ZetaTalk July, 2010

齐塔人之声2010年7月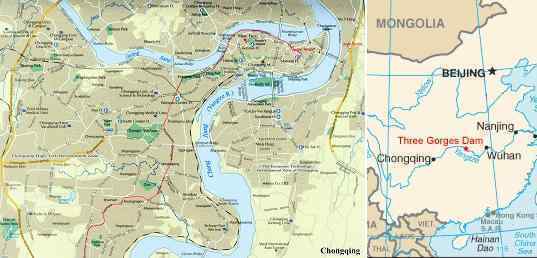 Hangzhou杭州
---
Hangzhou is on the line of breakage as the tongue of the Eurasian Plate is pulled down and under the Indo-Australian Plate. This is the line so active in sinkholes lately, from the point where the Himalayas are pushing into China across to the coast. Hangzhou is also on the coast, at the end of a bay which will surely have tidal bore or tsunami compressing to a point at Hangzhou when the Pacific does any degree of adjusting. The UFO was reported, sighted, as far south as Guangxi and Guangdong provinces, which are likewise along the coastlines in the regions being drawn down as the tongue of the Eurasian Plate is being bent. These regions, and Hangzhou, are clearly being warned about tsunami and a suddenly rising sea level as the plate is bend and pulled down. In sightings such as this, telepathic warnings are given to those below. The plate bending is at present gradual, and only exhibited by dramatic sinkholes that have developed. But plate movement, accompanying earthquakes, produces sudden changes, and it is then that those along the coastlines will experience sudden tsunami and loss of sea level.
亚欧板块被拉沉到印尼-澳大利亚板块底部的时候,杭州正处于破坏线上。从喜马拉雅山脉挤压天朝的点开始到海岸线的这条线上最近地陷很活跃。UFO被报道,最南到广西广东省都能看到,同样因亚欧板块弯曲而下沉的海岸线区域也能看到。当板块发生弯曲和下滑的时候,这些区域,包括杭州,将被海啸和突然地海平面上升所警告。在这样的目击中,人们被给出了以下精神感应方面的警告:目前板块的弯折是逐渐的,只是以引人注目的天坑地陷的形式表现出来。但板块运动再加上地震,会造成突然的变化,那个时候位于沿海地带的人们将遭遇突如其来的海啸和海平面下降。
根据齐塔人的说法,中国南方沿海城市杭州的居民们被警告 -------当承载印尼的"舌头地带"下沉的时候,他们会丢失海拔高度。当然这个下降是分等级的,苏门答腊岛和爪哇最遭殃。齐塔人被问及了这次事件,并给予了详细的回答。下面谷歌地图的红色部分显示了将长久存在的洪水情况。


以前我们已经提到过承载印尼的"舌头"地带发生弯折后将会受到影响的地区了,但现在可以给出更多的细节。从杭州城直接朝东面画出一条直线,并且把这条水平线看作"弯折点"吧。这并不意味着(弯折点)北面可以安然无恙,因为当"舌头"地带弯折下沉时,海水会从四面八方冲过来填充空白,而且这些水会以海啸的形式返回,朝北面呼啸而去,高度达到20---30英尺。中国南方的海岸同样得到会丧失海拔高度的警告。那么这些海岸线将会下降多少,以至于需要杭州出现UFO给予警告呢?总体上而言,预期这些海岸线会失去20 英尺的海拔高度;尽管台湾是个高地,也将遭受灾祸,(只不过)并不具有毁灭性。
ZetaTalk July, 2010

齐塔人之声2010年7月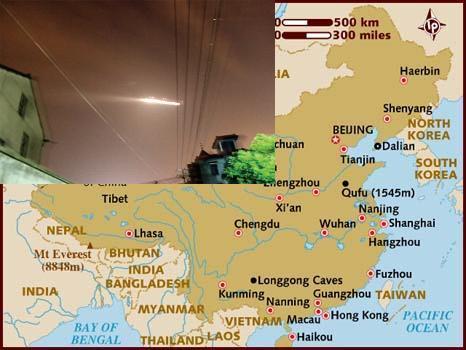 Hong Kong香港
---
Hong Kong is an ideal place to live at present due to its many bays and inlets - a city on the water. However, during the coming cataclysms this city will notfare well, as the shortening Pacific will force the water up rather than down the shores, and with the melting poles following only months later, this city will soon be unlivable. High land is advised, for safety sake, but plans for long term living in Hong Kong, unless in a boat, will be met with repeated short term emergencies.
由于香港有许多水上小港和水湾,因此香港作为一个水上城市,是一个理想的居住地。然而,在灾难来临时,这个城市将不会幸免,随着太平洋的扩张,水面将漫过海岸,随着逐渐融化的极地,在接下来的几个月,这个城市很快将无法居住。从安全的角度考虑,建议到高原地区安家,如果计划长期在香港附近的船上生活,就将会反复遇到紧急情况。
ZetaTalk
---
Hong Kong will be inundated by seawater during the 7 of 10 sinking of the plate tongue holding Indonesia, losing approximately 20 feet in elevation. Where much of Hong Kong is in the hills surrounding the city, it will nonetheless be devastated. Services such as clean water and electricity will be negated, so the desperate residents of the high rises will be living like birds in the trees. Where this will be a shock, it is a shock that will come to Hong Kong in any case during the pole shift. Thus, by forcing residents to move to higher ground, the 7 of 10 devastation is actually an assist toward survival.
在十个阶段的第七阶段承载印尼的板块舌部地带下沉期间香港将被海水淹没,损失大约20英尺的海拔,虽然香港大部分地区在围绕着城市的山中,它还是会遭受毁坏。诸如干净的水和电的供应服务会被终止,所以那些在高楼绝望的居民将像树上的鸟儿一样生活。
ZetaTalk

Note Hangzhou UFO commentary.
注意杭州UFO评论
Note Indonesia Elevation Loss commentary.
注意印尼海拔损失的评价
Altai Mountains阿尔泰山脉
---
The Altay Mountains are four-corners border of Mongolia, China, Kazakstan, and Russia. The climate will be temperate, much what it enjoys today. As with Mongolia Volcanic ash will not sweep the area, which will enjoy clean air. Mountain building will not occur, nor has it for many eons, as this mountain range is far enough from the Himalayas and is participating somewhat in the stretch that the Eurasian Plate will sustain. Thus, the deep lakes of eastern Russia and Kazakstan.
阿尔泰山脉在四个国家接壤的地方----蒙古,中国,哈萨克斯坦和俄罗斯。气候将变得温和,如今天我们所享受的。由于蒙古火山灰不会飘到这块地方,这里会有干净的空气。造山运动将不会出现,很多世代都不会发生。因为这个山脉离喜马拉雅山足够远,而且参与到一些延伸以便亚欧板块将维持稳定。因此,俄罗斯东部和哈萨克斯坦的深湖也不会改变。
ZetaTalk December 11, 2007

齐塔人之声2007年12月11日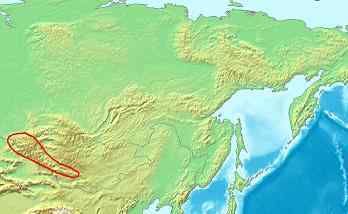 ---
The Altai mountains stand where four countries touch - Russia, Kazakhstan, Mongolia and China. This is high land and can lead a survivor in many positive directions. One direction, within Russian territory, is along the Russian mountains, past Lake Baikal, and onto the new Equator at the Bearing Straits. Another direction would be down into Mongolia which likewise will do well, with a temperate climate and a desert that will bloom in the Aftertime. The highlands of China and Kazakhstan are likewise possible directions, and as they will remain temperate highlands and are agricultural today, so will not disappoint.
阿尔泰山脉在四个国家接壤的地方----俄国,哈萨克斯坦,蒙古和俺国。这是块高地并且可以让幸存者走向很多好地方。其中一个方向,在俄国领土之内,就是沿着俄国的山脉,经过贝加尔湖,到达在白令海峡的新赤道。另一个方是南下进入蒙古情况同样良好,气候温和而且当地的沙漠在极移之后将盛开鲜花。XX的高原和哈萨克斯坦同样是可的前进方向,因为那些地方将保持温度和海拔和农耕,不会让你失望的。
Is the Russian government planning an alternative site in the Altai Mountains? They have put their all into the Urals, as they clearly have withstood cataclysmic changes in the past and are solidly within Russian borders. The Altai are, relatively speaking, exposed. This leaves the mountains of Russia, leading to the new Equator, to survivors among the common man. These mountains are relatively cold and barren at present, not populous today, thus there would be less crowding after the pole shift. This whole swatch, high land all of it, will be within temperate or tropical climates in the Aftertime. The Russian government would be advised to tell their people to take this trek, should they be inclined toward honesty and disclosure about the coming passage.
是否俄罗斯政府正计划在阿尔泰山脉建立一个应急点?他们把一切都投入到乌拉尔因为他们很显然经历了过去的灾难性变化,并扎根在俄罗斯边境。阿尔泰相对而言是暴露的,它离开了俄罗斯的山脉,导致新的赤道,指引普通人中的幸存者。这些山脉目前是相对寒冷、贫瘠的,而且人口稀少,因此磁极转换后会更加宽松。整片区域,高地将在未来处于温带或热带气候。俄罗斯政府将被建议去告诉他的公民去进行这次迁徙,他们应该倾向于诚实并公开即将到来的事件。
ZetaTalk May 4, 2011

齐塔人之声2011年5月4日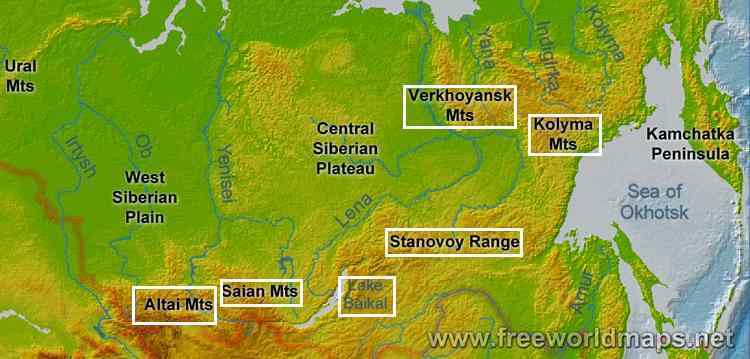 Note Baikal commentary.
注意贝加尔湖的评论
http://www.zetatalk.com/info/tinfo242.htm
312QQ
2014年11月29日